For technical reasons, we have another link for Wednesday's events. Please use this link!
BeEx2022 will take place 22-26 August with combined live and online seminars. The main focus will be on Democracy & Autocratization, Gender, Sexuality, Health & The Law, Contestations over Natural Resources & Climate Change, and Decolonizing Global Knowledge Regimes.
To express interest in attending, please contact Director Siri Gloppen (siri.gloppen@uib.no). For information about traveling to Bergen, please see this page. If you are interested in volunteering at the Bergen Exchanges and will be in Bergen during August 2022, contact the Volunteer Coordinator for the Exchanges, Marthe Engedahl (marthe.engedahl@uib.no).
Click here to view the program.
Click here for information regarding all logistics of the BeEx2022.
If you want to follow the conference but cannot attend in person, you can join the events on Zoom using this link.
---
The Annual Lecture on Law & Social Transformation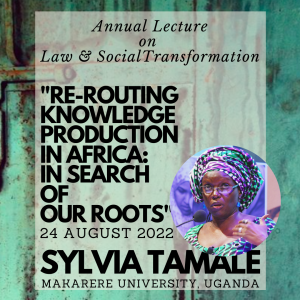 We are pleased to announce that this year's Annual Lecture on Law & Social Transformation will be given by Sylvia Tamale (Professor of Law, Makerere University).
She will speak on "Re-routing Knowledge Production in Africa: In Search of Our Roots". The lecture will take place on 24th August.
---
PhD Course: Effects of Lawfare 2022
The annual LawTranform PhD course on the potential and limits of law as an instrument of social change, offers opportunities to engage with some of the foremost scholars in the field, and international research projects currently seeking better answers to these questions. This year there are special tracks on "Democracy & Autocratization"; "Gender & Sexuality" and "Natural Resources & Climat Change", as well as the general track.
The course will run from 9 to 30 August. The course combines real time online sessions, individual and group mentoring sessions and digital (hybrid) public seminars. Read more about the PhD course here.
---
What are the Bergen Exchanges?
The Bergen Exchanges are an annual event taking place in Bergen in August each year. It is a meeting place for scholars and practitioners from across the globe who seek to understand how law serves as an instrument of change – and how it shapes and is shaped by power relations. During a week of public discussions, we examine strategic uses of rights and law and how legal institutions function as arenas for political contestation (lawfare).
The multi-disciplinary and international nature of the Bergen Exchanges makes it a unique space for improving research strategies and methods to grasp the effects of law and lawfare. This includes the use of legal instruments by governments to shape societies – whether through constitutional change, international treaties, statutes or regulations – as well as by social actors who go to court or otherwise engage rights and law to advance their goals. Effects take different forms. How legal strategies alter political dynamics, ideas and discourses can be as important for long term transformation as more immediate changes in laws, policies, or the distribution of resources. We also seek to better understand the functioning of legal and administrative institutions as they adjudicate, interpret and implement legal norms.
In connection with the Bergen Exchanges, we have an annual, interdisciplinary PhD course on Effects of Lawfare. The PhD course is free of charge and open to applicants from Norwegian and international institutions on a first-come first serve basis (but out-of-town applicants have to cover their own travel and accommodation costs, as there are no scholarships available).
---
Previous editions of Bergen Exchanges
2021: Program, Summary, and Recorded Sessions
2020: Program & summary and Recorded sessions
2019: Program and Recorded sessions
2018: Program and Recorded sessions
2016: Program