Liliia Oprysk (2022)

BLOGPOST by Liliia Oprysk
---
Ukraine has been fighting the hybrid war with Russia since 2014. 1,5 million Ukrainians were forced to leave their homes in the east of Ukraine and in Crimea. For nearly a decade, they cannot return home. Since February 24th, Ukraine has been under heavy Russian military attack from the north, east, south and across the entire territory of the country. Ukrainians all over the country are forced to flee, hide or fight. Ukrainian army and territorial defense forces fight against the occupant to protect democracy, free will and Ukrainian independence. This is an assault on the Ukrainian people. This is an assault on Europe and its values.
Ukraine is paying a high price for protecting democracy and free will in terms of human lives, misplaced and separated families, destroyed resources, plans and hopes. Ukraine needs all kinds of support in this difficult time, be it financial, military or humanitarian. There is something everyone in Europe and the world can do, and it does not have to cost money. Just only spreading the word about what is happening, expressing your concern, and sharing information about how one can help Ukraine makes a difference!
Ukraine's future depends on the safety of our people and our country, the preservation of our culture and liberal values. As much as it is vital to stop the war against Ukraine and enable Ukrainians to return home, the nation's well-being depends on preserving state institutions, civil society and academia.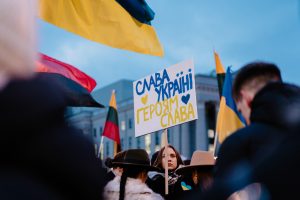 Photo credits: Dovile Ramoskaite via Unsplash
---
How can the global academic community help?
Spread information! About immediate ways to help[1]

and about

what is happening

: to your employees, your students, and, importantly, Russian people. Putin's regime is fighting a war against democracy and free will in Ukraine, but also against its own people. Information warfare is used to cover up what is going on and to eliminate any resistance from within. Spread the word and encourage action!

Cross-border cooperation, whether in research or education, is dependent on mutual trust and shared values. Surely Russian aggression against Ukraine must leave its mark on any undertaken evaluations. Demand public statements from Russian institutions! Not just a declaratory one, they need to be publicly open on the websites to communicate the message in Russian to their people. NONE of the largest Russian higher education institutions has mentioned ANYTHING about what is happening on their websites.
Ukraine needs to ensure continuity of education for its people. Support for Ukrainian students studying abroad and scholarship schemes dedicated to Ukrainians will help to rebuild our institutions once this highly traumatic experience ends.
Even small cuts in the budget have a great impact on research. A full-scale war is devastating. To support Ukrainian science and maintain the expertise of Ukrainian researchers, an opportunity to continue ongoing research projects and start new ones is crucial. Actively engaging Ukrainian scholars in research and establishing dedicated funding programmes would help Ukrainian academia to preserve the knowledge and capabilities in order for it to contribute back to the global research community.
Finally, the Russian aggression and information warfare aim at the Ukrainian people not only in a physical sense. Most importantly, Putin's regime targets the morale, culture and identity of Ukrainians. These must be preserved by all means! Among other things, support for projects associated with the culture, people and national memory of Ukraine would contribute to that.
Ukrainians are thankful for any help in protecting our country and values and are determined to continue actively contributing to the global research community in building a better future. Together we will protect European values, retain peace and safeguard our invaluable European cultural heritage!
[1] For links for donations see, for example, https://uacrisis.org/en/help-ukraine,   https://euromaidanpress.com/2022/02/27/verified-ways-to-help-the-ukrainian-army/
Also read the Norwegian letter published in Khrono: Ukrainske forskere i Norge: Dette kan universitetene gjøre (khrono.no)
Photo: Hilde Kristin Strand via Khrono